A house built of wood chunks from the 1800 century.
On the other side of the Rukkebäcken brook there is an unusual house built of wood chunks by Fredrik Stenmark in the 1880s. The outer walls are built of round chunks of mountain birch wood stacked as in a woodpile, with layers of clay between so as to fill up the cavities. Between the layers of wood chunks there are horizontal laths to act as binding.
The exterior surfaces of the walls are dressed with cover boarding and the interior ones are covered with clay. The house was in use until the 1940s, and there was a café there when the connecting road between Sweden and Norway was being built during the 1930s.
Show more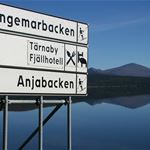 Hotel / Hostels
Distance: 31.7 km
We are a small and welcoming hotel with all the activities right outside the door. We have comfortable and functional hotel rooms, a restaurant with price winning food, conference room, apartments, hostel and a sauna with panoramic view. The skilift is 50 meters away and you can ski all the way to the door. Close to hiking tracks, lake for fishing or canoing in summer and snowmobile and cross country skiing in the winter- perfect location.