Snowmobile information for foreign drivers
Show map
Nature in Hemavan Tärnaby is magnificent and varied. One way to experience it is to travel by snowmobile through birch forests, across frozen lakes and up to the bare mountain peaks.
In Hemavan Tärnaby the Storuman municipality takes care of the trails for snobiles and The County Administrative Board controls most of the trails further out on the mountains. In Hemavan and Tärnaby village it is forbidden to drive a snowmobile - except along the marked snowmobile trail. Check the local mountain map, at the Police or the Municipality trail map that it is premitted to drive to where you intended.

Rules for foreign drivers who want to drive a snowmobile in Sweden:

In order to drive a snowmobile in Sweden, it is required that you be 16 years old and have a driving licence for off-road vehicles. Snowmobiles may also be driven by those who have a Swedish driving licence or tractor licence issued before Jan. 1, 2000.

You can also drive without a driving licence if you are part of a group within the tourist industry with no more than 10 people who have driving licences or tractor licences and that is led by a person with a driving licence for off-road vehicles along a route that has been determined by the leaders before the trip.

As a foreign driver (within EES*), you have the right to drive a snowmobile in Sweden if you have that right in your homeland. If you can not demonstrate this or if you come from a country outside EES, your only option is to be included in a group within the tourist industry or to possess a Swedish driving licence. *EES-countries are member countries of the European Union as well as Norway, Iceland and Liechtenstein.
Show more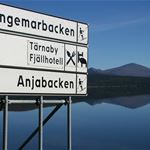 Hotel / Hostels
Distance: 30.3 km
We are a small and welcoming hotel with all the activities right outside the door. We have comfortable and functional hotel rooms, a restaurant with price winning food, conference room, apartments, hostel and a sauna with panoramic view. The skilift is 50 meters away and you can ski all the way to the door. Close to hiking tracks, lake for fishing or canoing in summer and snowmobile and cross country skiing in the winter- perfect location.