Colonists settled here in the 1800s for the fertile soil sake.
Halfway between Tärnaby and Hemavan the gravelled road turns off southwards to the Ängesdal and Björkvattnet valleys. Down at lake Björkvattnet, roads go round both sides of the lake. The narrow gravelled road comes out on the Blue Road again at Ajaure. The round trip from Tärnaby totals about 85 km. In addition there is a new road southwards to the lake and the settlement of Virisen, about 10 km from Björkåsvägen road. Björkvattnet was the first valley to be inhabited by new settlers, at Ängesdal in 1824. The land here is very fertile, the climate exceptionally warm, and even rye can ripen. Even such an alien plant as lady's slipper, for example, has found a place to flourish on a southern slope. As part of the extensive programme of water control undertaken in the 1950s most of the arable land was put under water. The dam built at lake Gardiken raised the lake levels 20 metres higher than before. Most of the farmers were forced to move elsewhere.
Show more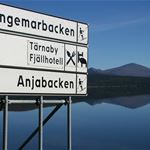 Cabin & apartment
Distance: 9.4 km
We are a small and welcoming hotel with all the activities right outside the door. We have comfortable and functional hotel rooms, a restaurant with price winning food, conference room, apartments, hostel and a sauna with panoramic view. The skilift is 50 meters away and you can ski all the way to the door. Close to hiking tracks, lake for fishing or canoing in summer and snowmobile and cross country skiing in the winter- perfect location.