A valley with many hiking opportunities, trapping pits and sunbathing.
The road around lake Laisan starts 4 km south of Hemavan. It begins as an asphalt road to Laisholm, then becomes a gravelled road to the E12 Blue Road immediately south of Tärnaby. The E12 road between Tärnaby and Hemavan is 20 km. The road around lake Laisan is a comprehensive, extremely picturesque round trip, making a suitable bicycle tour both from Tärnaby, 38 km, and from Hemavan, 45 km.
Show more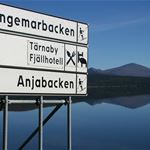 Cabin & apartment
Distance: 9.5 km
We are a small and welcoming hotel with all the activities right outside the door. We have comfortable and functional hotel rooms, a restaurant with price winning food, conference room, apartments, hostel and a sauna with panoramic view. The skilift is 50 meters away and you can ski all the way to the door. Close to hiking tracks, lake for fishing or canoing in summer and snowmobile and cross country skiing in the winter- perfect location.