Soapstone can be sawn, cut and polished.
A soapstone quarry at the southeastern point of the Sörtjärnen tarn is reached via 200 metres of good footpath which begins 100 metres after the asphalt road ceases. Soapstone, and its specially fine variant steatite which is found here and is a clear dark green colour, has some very singular properties. It can be sawn, cut and polished. In addition it has extraordinary heat-retaining properties and is therefore used in stoves among other things.
Show more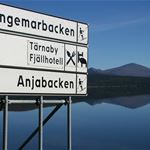 Cabin & apartment
Distance: 6.7 km
We are a small and welcoming hotel with all the activities right outside the door. We have comfortable and functional hotel rooms, a restaurant with price winning food, conference room, apartments, hostel and a sauna with panoramic view. The skilift is 50 meters away and you can ski all the way to the door. Close to hiking tracks, lake for fishing or canoing in summer and snowmobile and cross country skiing in the winter- perfect location.