Beautiful formations in the soft shale rock and the crystal clear water makes Ruttjebäcken a favorite destination in this area.
The excellent footpath begins on the other side of the bridge across the Ruttjebäcken brook. After a few hundred metres you can leave the footpath and go out on the rocks. Stroll about here and look for giant pot-holes, tunnels, channels and fanciful weatherings of the soft slate rocks. The less water there is in the brook, the more beautiful formations emerge.

The Ruttjebäcken brook has been digging itself down into the soft slate rocks for thousands of years. There are also veins of limestone in the bedrock. When the slope begins to level out the formations in the brook diminish. The footpath then also deteriorates and becomes wet.

Length: It´s up to you!
Elevation change: 100 m to the tree line
Level of difficulty: Green (5 km/hour, very smooth, and level path)
Show more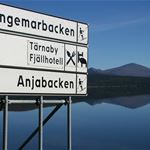 Cabin & apartment
Distance: 28.2 km
We are a small and welcoming hotel with all the activities right outside the door. We have comfortable and functional hotel rooms, a restaurant with price winning food, conference room, apartments, hostel and a sauna with panoramic view. The skilift is 50 meters away and you can ski all the way to the door. Close to hiking tracks, lake for fishing or canoing in summer and snowmobile and cross country skiing in the winter- perfect location.