An early description of the little islet out in the middle of the Tängvattnet waters off Rönäs village is found in Egil Skallagrimson's saga. This tells that King Torulf Kveldulfson, from Hågoland on the coast of Norway,
traded with the Sami on this islet as early as 880 AD. It seems probable that here courts were conducted, taxes levied and trade with the Sami carried on for nearly 900 years. From Tingsholmen there is a fantastic view, especially in over the Oxtindarna mountains. Still today a ring of stones gives a reminder of where the ancient court was held. But the 2.5 metre high egg-shaped granite rock of justice was blown up in 1933 and used for building the bridge across the Ruttjebäcken brook. Also on the island are two old Sami graves, the remains of a Sami tent hut and a fisherman's hut.
Show more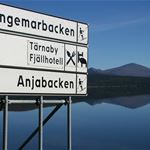 Cabin & apartment
Distance: 28.5 km
We are a small and welcoming hotel with all the activities right outside the door. We have comfortable and functional hotel rooms, a restaurant with price winning food, conference room, apartments, hostel and a sauna with panoramic view. The skilift is 50 meters away and you can ski all the way to the door. Close to hiking tracks, lake for fishing or canoing in summer and snowmobile and cross country skiing in the winter- perfect location.